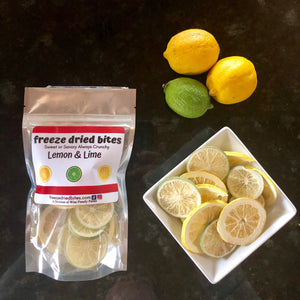 I love adding a little flavor to my water.  These freeze dried slices of lemon and lime are so flavorful.  I only need to add a half slice of lemon to my water glass to give it the hint of lemon flavor I love, and it lasts all day.  I just keep adding ice and water to my glass.  The flavor helps me drink much more water during the day than I would otherwise.
They would also be a great addition as a last minute garnish to a Key Lime or Lemon Meringue pie or any other number of lemon and lime based baked goods.
You don't have to worry about keeping fresh citrus in the house anymore,   These slices will keep for months as long as you keep the mylar bag  shielded from the sun. 
They are perfect to take with you travelling, and you can keep a bag in your drawer at the office.